ORDER NOW
360-961-1005
Eco-friendly
Closely monitored and controlled harvests. Annual allocations set to 4% of estimated biomass. more info>
Individual Quick Freeze Processing
- IQF -
These scallops are quick frozen using CO2 within hours of being removed from the sea. IQF is proven in taste tests to be the best freezing method for shellfish.
Award Winning
Harvesting Method
NO destruction to sea floor. Scallops are harvested with the "Richard's Scallop Trawl" as they "swim" above the bottom. more info>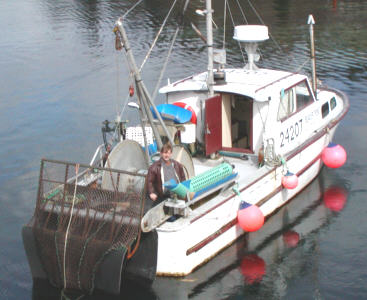 Enlarge picture.

Four ways to buy Swimming Scallops:

Fresh - Shipped same day caught

Frozen - Quick frozen bulk packed 30 lb case

Cold Smoked - vacuum packed & frozen 1 lb bags

Hot Smoked - 70 gram tins

Cold smoked, vacuum packed, and frozen.
Thaw and serve. Bet you can't eat only one!

Frozen spiny and pink scallops.
Pre-cleaned. No need to Thaw.
From the freezer direct to the
steamer- ready in 4 minutes!
Spiny (Chlamys hastata) and Pink (Chlamys rubida)
Size: 51 to 58 mm diameter
Count: 20-24 per pound frozen
Count: 85-95 per 1lb bag, cold smoked
Count: 16-18 per 70 gram tin, hot smoked
Harvested from the cold waters of the Discovery Islands in British Columbia, swimming scallops are a delicate, wonderfully tasting, and nutritious seafood. The scallops are not damaged during harvesting and well cleaned before going to the processor where they are "individually quick frozen" (IQF) to retain their "fresh caught" taste.
The West Coast Scallop Harvesters Association and the Canadian Ministry of Fisheries and Oceans continually monitor the scallop beds to insure a healthy catch and control the allotment in order to assure sustainability of this desirable seafood.